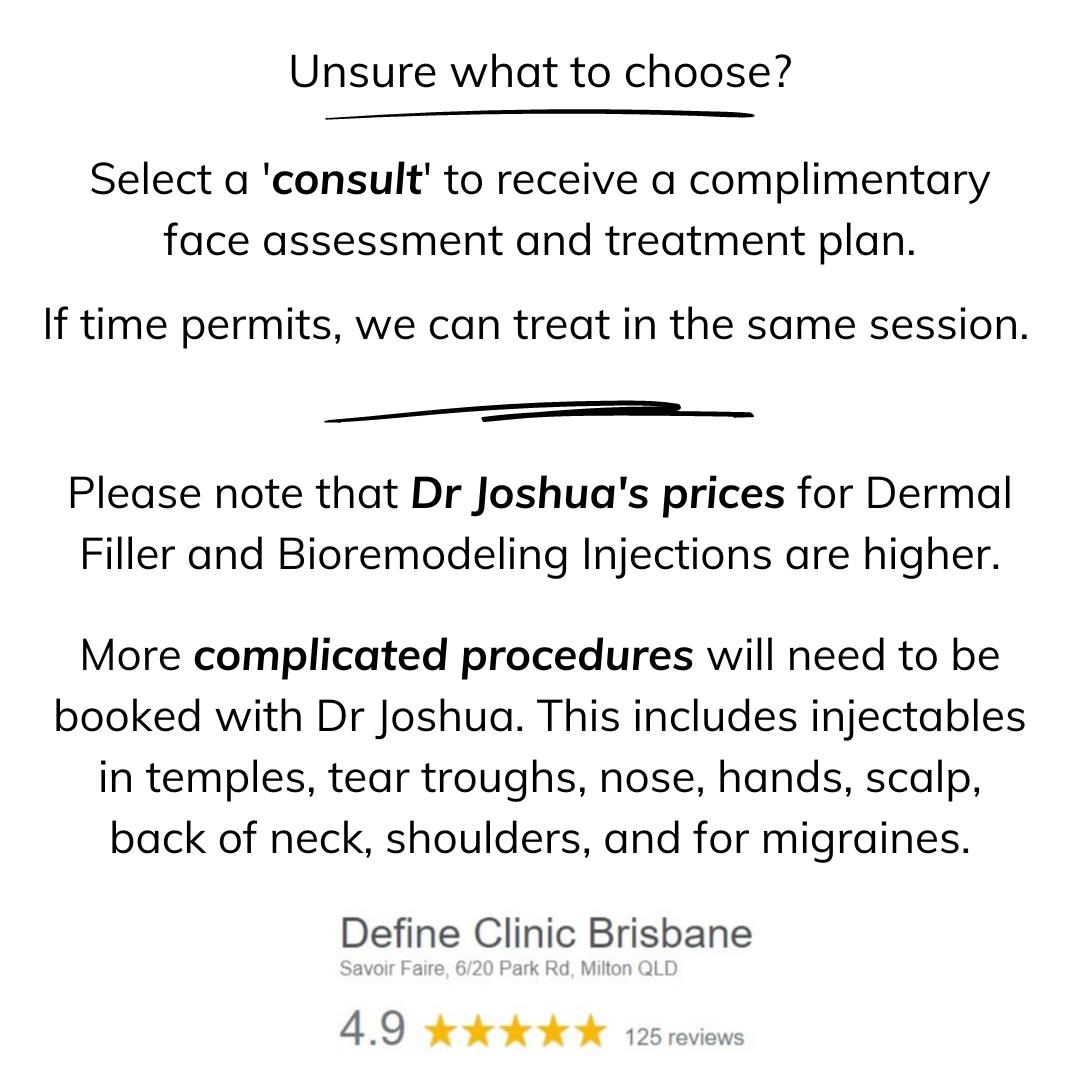 Define
Define is a boutique clinic located in Brisbane offering cosmetic injectables, laser treatments, dermal therapy, medical Botox, and weight loss.
Define
Nurse An

Registered Nurse

Background: Nurse An graduated with a Bachelor of Nursing in 2021 and transitioned straight into aesthetic medicine. An is due to complete her studies to be a licensed laser technician and will soon be offering laser treatments. Favourite procedure: Lip filler can make an instant impact on your appearance. It is really satisfying to see a patient's face when you hand them the mirror and they are overjoyed with how they look. Everyone deserves to feel that level of confidence.

Nurse Nancy

Registered Nurse

Background: Nurse Nancy graduated with a Bachelor of Nursing and began her cosmetic career soon after. She has an extensive background in clinical nursing, having worked in med-surg, ICU, paediatrics and emergency. Favourite procedure: lower face transformation: lips & chin are a beautiful combination that can create the ideal face shape and harmonise a face. A beautiful set of lips without the proper surrounding structure can be wasted, but when the two are combined, it is simply magical.

Nurse Alessia

Registered Nurse, Laser Technician, Dermal Therapist

Background: Nurse Alessia graduated from ACU with a Bachelor of Nursing and then studied Graduate Diploma in Cosmetic Nursing and Injectables at Gray Clay. Alessia brings a wealth of knowledge of all things skin and laser. Favourite procedure: nose/face capillaries. This treatment is wonderful because it offers instant results and is really satisfying for our clients to see such awesome results so quickly.

Joshua (Doctor)

Aesthetic Physician: MBBS (UQ), MACAM, BAS

Background: Joshua started medical school at UQ in 2012. He interned in 2017 at Prince Charles Hospital and then his residency where he gained experience in internal medicine, general surgery and emergency. He has been practising skin medicine and aesthetics since 2018 and upskilled into muscle pain treatments and weight loss in 2020. Favourite procedure: non-surgical rhinoplasties are satisfying to perform and can make a huge difference to the patient and their confidence.
Define
Define
BRISBANE: Park road, Milton
20 Park Road, Suite 6, Milton, Brisbane, QLD, 4064
0434860125
Monday

Tuesday

Wednesday

Thursday

Friday

Saturday

10:00am - 6:00pm

10:00am - 4:00pm

10:00am - 6:00pm

10:00am - 6:00pm

10:00am - 6:00pm

10:00am - 3:00pm